Promoting musical culture
Along with all its concert series and specialized training, the Accademia also engages in a broad range of activities aimed at diffusing musical culture and promoting the conservation and utilization of its extremely rich heritage, as its multi-secular history reflects.
The Accademia organizes exhibitions, lesson-concerts, conferences, seminars and symposiums; it participates in international projects and publishes books – including two series for children – CDs, DVDs and multi-media projects intended both to spread musical culture throughout its wide public and to intensify scientific research conducted in the fields of music and musicology, especially within its own collections.
Multimedia Library and MUSA
Activities for children and young people in the Multi-media Library and Museum of Musical Instruments enrich the "Tutti a Santa Cecilia" program, inviting younger music-lovers to explore the history of the Accademia and its treasures.
The historical patrimony, which is conserved in the Archives, in the Multi-media Library and the Museum of Musical Instruments, is directly accessible on-site free of charge; much of it can also be viewed and consulted online by way of dedicated web portals.
Multimedia Library
Consult the chronology of events as well as library and archive catalogues. Read news about ongoing and future activities. Review multi-media clips and videos, or listen to recordings of past concerts. Access the editorial catalogue and purchase Accademia publications directly online.
MUSA - Museum of Musical Instruments
Read the news about ongoing activities and information about tours and workshops for children and schools. Consult the catalogue, with its photos and audio recordings of musical instruments. Read the history of the Museum and in-depth descriptions of the instruments.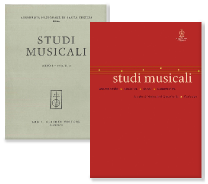 The journal "Studi musicali", published by Accademia Nazionale di S. Cecilia, has now an updated website featuring new contents and functions . "Studi musicali" was established in 1972 by Guido M. Gatti, and under the direction of Nino Pirrotta and Agostino Ziino became one of the most prestigious musicological journals in the world. In 2021 "Studi musicali" was awarded a prize assigned by the Italian Ministry of Culture to journals of high cultural value. In the recent years the journal, while preserving the guidelines that characterized its history, enlarged its horizon welcoming essays inspired to new methodologies and subjects.
For subscribers the magazine is available on line, the full-text version, indexed and digitized at the following address: www.studimusicali.santacecilia.it